Right after I graduated from WPI graduate school, my parents, sister and I took a 10-day trip to Ireland. After weighing the pros and cons of various approaches to seeing the country, we decided to take a guided bus tour. The tour allowed us to hit all of the major sites, while still giving us a good amount of free time to explore on our own. Being on a tour has among its advantages a tour guide who talked about each place we travelled through, therefore giving us a history lesson we wouldn't have gotten otherwise. As you'll see, the trip really was a history lesson come to life. Being on a tour also gives travelers (well, tourists in this case, I'll admit) a chance to hit major attractions with admissions and activities setup for you beforehand. That means less waiting than there otherwise would be.
Of course, having someone else set your schedule could be seen as a drawback, which is why we viewed the experience as a sort of primer so when we went back (which of course I intend to do), we'll have a good idea of where we want to go and what places we like the best. This trip introduced us to the history, the landscape, and the major things to see. When I go back next, I will engage with the people a lot more and not have to worry in the back of my mind if I'm missing something I should be seeing.
All in all, it was a great experience. The country and landscape are beautiful, the people are friendly and welcoming, and the general attitude was a good one. Two points that people bring up about Ireland didn't seem to apply that much: bad weather and worse food. We were there in late May but only got rain on one day out of 12 (10 touring days plus two travel days). Sure, it was overcast a lot of the time, but staying dry in Ireland seems to be the trick, and we pulled it off. Secondly, the food we ate was absolutely delicious – especially the full Irish breakfasts – so I really don't know where that myth comes from. I can't even think of one bad meal we had, never mind the delicious Guinness that awaits you wherever you go.
Below I've reproduced our trip itinerary as given to us by the tour company. I also put links into my photo gallery from the trip. Enjoy!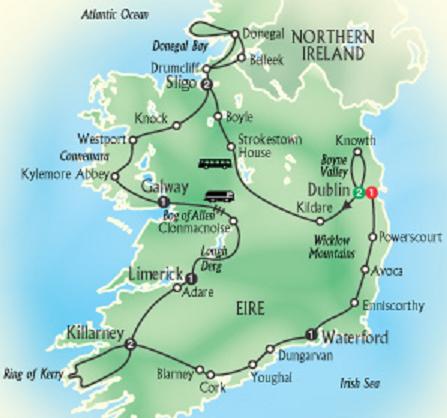 Day 1. Arrival in Dublin, Ireland. Check into your hotel. The rest of the day is free to relax in the Irish capital. Before dinner join your tour director and traveling companions for a toast to happy touring.
Day 2 Dublin. Boyne Valley Excursion & City Tour. Motor north to the lovely Boyne Valley, scene of a bloody 17th-century battle. Near Drogheda, visit the Boyne Valley Visitor Centre and Knowth, where your local guide explains a fascinating passage-grave dating from the Bronze Age. Return to Dublin through history-steeped landscapes. Your afternoon orientation tour takes in statue-lined O'Connell Street, elegant Georgian squares, and St. Patrick's Cathedral. Visit Oscar Wilde's Trinity College, famous for the 1,200-year-old Book of Kells and the magnificent Old Library.
Day 3 Dublin-Sligo. Horse-racing country this morning. Drive across the Curragh to the Irish National Stud at Kildare, whose thoroughbreds command respect on the racecourses of the world. Then north to Longford for a visit to Strokestown House for a guided tour of the restored 1740's mansion, a stroll through its fine gardens, and at the Famine Museum an insight into the circumstances of the the Great Irish Famine of the 1840's. On the way to Sligo stop at Boyle for photos of the Cistercian Abbey ruins.
Day 4 Sligo. Donegal Excursion. First stop: Drumcliff for a visit to the grave of the native son and poet W.B. Yeats. Then step across the border into Northern Ireland to visit the famous Belleek Pottery Factory, renowned for its exquisite cream-colored Parian china. The rest of the day is dedicated to wild and beautiful Donegal. Follow the scenic Altantic coast and in Donegal town, founded by Danish Vikings and home of the O'Donnell Clan, shop for hand-knitted woolen goods and other crafts from the region.
Day 5 Sligo-Galway. South to Knock, a village that attracts pilgrims from all over the world since the townsfolk saw apparitions. Via Westport head for the unspoiled region of Connemara, an area known for its hardy breed of ponies. Visit Kylemore Abbey, a massive yet graceful castle acquired by Benedictine nuns as a precious heirloom for Ireland. At Moycullen visit a Connemara Marble Factory before arriving in the port city of Galway, a vibrant city with a great seafaring tradition. Hear about the infamous Lynch Stone, commemorating the day Mayor James Lynch Fitzstephen hanged his son for murder.
Day 6 Galway-Limerick. Unusual visits today starting with a fun adventure: board a reserved carriage on the West Offaly Railway for a guided tour of the Bog of Allen and hear about the story of peat, its secrets, and the uses it has been put to through the ages. At Clonmacnoise, let your guide explain the remains of the ancient ecclesiastical site which are among the most extensive of their kind in Ireland. After lunch, skirt Lough Derg to spend the night at Limerick with a recommendation to join the optional medieval banquet at Knappogue Castle.
Day 7 Limerick-Killarney. On this morning's city tour view the Treaty Stone and St. Mary's Cathedral, and visit King John's Castle in the medieval heritage precinct. South now via quaint Adare with its thatched cottages to the popular resort of Killarney, your destination for the next two nights. A special treat: a fun-filled horsedrawn jaunting car ride out to Muckross House gardens set amidst some of the most spectacular scenery in Ireland.
Day 8 Killarney. Ring of Kerry Excursion. Join the famed Ring of Kerry map for a 100-mile panoramic drive around the island's southwestern tip. Plenty on which to focus your camera here: sparkling seascapes, mountains dotted with brightly colored farmhouses, winding lanes bordered with subtropical vegetation, and the breathtaking panorama of the Lakes of Killarney from Ladies View. Back in Killarney the rest of the afternoon is free to explore on your own. Tonight an entertaining optional evening in Tralee with dinner at the Galleon Restaurant followed by tickets for Siamsa Tire National Folk Theatre.
Day 9 Killarney-Waterford. Across the Kerry Mountains drive into County Cork for a visit to Blarney, renowned for its castle and magical Kissing Stone. Time for lunch, to walk up to the castle, and to shop for traditional Irish handicrafts. In the afternoon proceed via Cork, Youghal, and Dungarvan to Waterford, a stronghold founded by the Danish Vikings in 853. Here enjoy a visit to the world-famous Waterford Crystal Factory.
Day 10 Waterford-Dublin. Today's agenda: Enniscorthy, site of the final battle of the Great Rebellion of 1798; Ireland's oldest handweaving mill at Avoca; Powerscourt Gardens with stunning views of the Wicklow Mountains. Back in Dublin tonight, as a fitting farewell to Ireland, your tour director will suggest reserving seats for an enjoyable Irish dinner and cabaret show.